February is a big month for hip hop in Birmingham as local shows and touring acts seem to be filling up the calendar with quality shows. At LOBOTOMIX, we are really excited to see the Doomtree collective come through town and doubly excited that they're bringing North Carolina's Mr Invisible with them to support. I had gotten the chance to talk with Justin from Mr I at A3C last year and had been hoping to get them to town – as fortune would have it, Bottletree got to it before me, so the crew and I are helping spread the word – if you are a true head, you already know what a quality show this will be, and if you are one who dabbles in Hip Hop, I am here to assure you that you don't want to miss this show – these acts bring a hard, punk rock aesthetic to their approach to hip hop while maintaining a true-school sensibility to their music and performances. This will be an energetic intense show that you won't want to miss. Check out the details and links below.
Rashid.
Friday Feb 10th
Bottletree
3719 3rd Avenue South, Birmingham, AL 35222
doors at 8, show at 9 18+ $10
you can buy tickets online for this event here.
DOOMTREE
The No Kings tour sees this prolific pack of Minnesota musicians, The Doomtree collective touring their second all-crew release. Known for their explosive live shows, their ferociously DIY ethic, and their blatant disregard for the conventions of their genre, all seven members of Doomtree have built solo careers as rappers, producers, or DJs. Comprised of P.O.S., Dessa, Sims, Cecil Otter, Mike Mictlan, Lazerbeak, Paper Tiger, Doomtree has a well-earned reputation for aggressive, innovative production that spans genre and era—borrowing from punk, classical, obscure rock, experimental, and foreign styles. Ultimately the title, No Kings, is a call for both rebellion and respect—obey no monarchs, seek no thrones. There are 808s in Neverland. There are no kings in Minneapolis. And Doomtree continues their ascent the same way they began: one city, one club, one show at a time.
Check out the first leg of the tour with footage from their shows in Lawrence, KS, Columbia, MO, Omaha, NE and Denver, CO and the video for Bolt Cutter.
MR INVISIBLE
Mr. Invisible is a team of two MC/producers and one DJ, based in Charlotte, NC who have been making progressive hip‐hop music for over 10 years. At the forefront of the NC indie music scene, Mr. Invisible has turned into one of the most innovative and original groups in indie hip‐hop today, known for energetic performances, technical proficiency, masterful beats, fast raps, and B‐boy inspired breaks. They draw heavy inspiration from old school hip‐hop, while always innovating and experimenting, utilising live production and sample manipulation to craft perfect backdrops for their immaculate rapid-fire lyricism.
Check out their video for Bring it On and footage of Mr. Invisible performing live with Maschine.
Friday Feb 10th
Bottletree
3719 3rd Avenue South, Birmingham, AL 35222
Doors at 8, show at 9 18+ $10
You can buy tickets online for this event here.
and check out the event page on Facebook.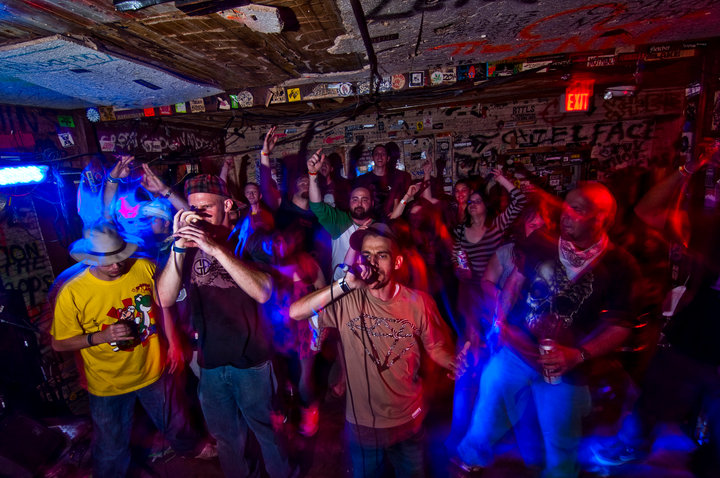 Mr Invisible.